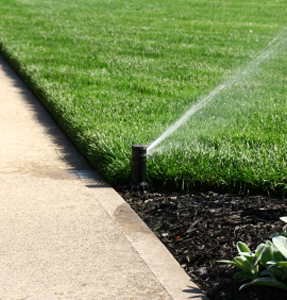 SKYDROP SMART WATERING CONTROLLER:  The new SkyDrop Smart Water sprinkler control timer. No more frustrating seasonal timer adjustments. SkyDrop does it all automatically for you. Complete sales & service.
SERVICE / REPAIR / TUNE-UP:  The Sprinkler Doctor offers complete service, repair, and trouble-shooting for all automatic sprinkler and drip landscape irrigation systems. Over time sprinkler components such as nozzles, heads, valves and control timer will need cleaning, adjustment, repair, or replacement. As your landscape continues to mature sprinkler heads may need to be raised or relocated to water most adequately. Maximize your systems efficiency.
MAINTENANCE:  Have the Sprinkler Doctor monitor and maintain your sprinkler system. Seasonal control timer adjustments including replacement of worn or broken nozzles and other minor repairs as needed. Keep your landscape green while saving water and money. Once per year, quarterly, bimonthly or a monthly plan that best serves you.
DESIGN CONSULTANT:  On-site professionally designed sprinkler irrigation system layout including complete material parts list discounted directly at wholesale pricing for the home owner. Additional set-up and installation help is available.
REMODEL:  Sprinkler heads not covering anymore? Valve manifold always leaking? Reduce the size of your lawn converting to desert-scape saving water? Could be the time for part of your sprinkler system to be remodeled.
LOCATE UNDERGROUND VALVE BOX MANIFOLDS:  Now using the most sophisticated electronic equipment we can locate a broken wire, complete wire run or find missing valves. For homeowners, contractors or HOA's.
ADDITIONAL SERVICES:   Weeds getting out of control? Weed Control and Fertilizing service available.
Convert your automatic sprinkler system to a "SmartWater" (ET) sensor that automatically self adjusts controller watering based upon current weather conditions. Some city municipalities offer rebates towards these conversions for water conservation. A benefit for permanent or seasonal residences.
Call for seasonal service specials. System Winterize & Spring start-up.
The Sprinkler Doctor 100% Satisfaction Guarantee on service and repairs.