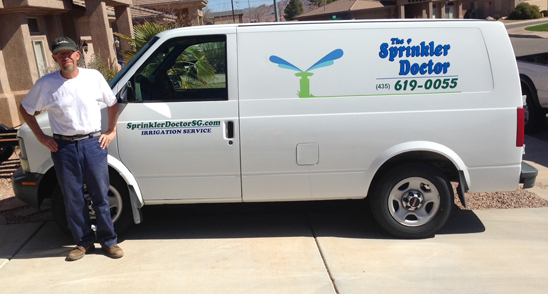 Doug Brown is known around Southern Utah as the "Sprinkler Doctor". Doug has over 25 years experience in the irrigation industry. He updates his knowledge annually with continuing education courses from the Irrigation Association of America. He has worked as a foreman/superintendent for several large irrigation contractors in his career.
He was responsible for the irrigation installation of large projects such as Pineridge Mall-Pocatello, Evanston High School, Bountiful Cemetery, Albertson's Shopping Plaza-Brigham City, Hill Air Force Base and the St. James LDS Chapel-St. George. He specializes in engineering efficient and affordable irrigation designs, overseeing irrigation construction installations, and trouble shooting of existing systems. He has worked with virtually every commercial sprinkler controller, valve, and head in the industry. Doug's experience has been utilized by companies like Allied-Pacific because of his talents in engineering, designing, and installing irrigation systems.
Doug Brown is a grateful American. He considers it an honor and privilege to live and work along with the freedom to offer his customer service to the St. George area. Doug likes to mountain bike and ride his motorcycle around southern Utah with his wife Lisa, and friends. He lives in St. George.